Anesthesiology Specialist in Chittagong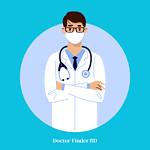 MBBS, MCPS (Anesthesiology), DA, FCCS (Critical Care Medicine)
Anesthesia & Intensive Care Medicine Specialist
Chittagong Medical College & Hospital
Anesthesiology Specialist in Chittagong
Anesthesiology specialists in Chittagong play a vital role in the healthcare sector, offering essential services in surgeries and pain management. In Bangladesh's bustling port city, these medical professionals ensure that patients undergo surgical procedures with maximum safety and comfort.
These specialists are experts in administering various types of anesthesia, including general, regional, and local anesthesia, tailored to each patient's specific medical condition and surgical requirements. Their role extends beyond the operating room; they are also involved in preoperative evaluations, discussing anesthesia plans and potential risks with patients, and ensuring a smooth recovery post-procedure.
In Chittagong, anesthesiology specialists are key players in pain management, particularly for chronic pain conditions and in palliative care settings. They utilize a range of techniques, from nerve blocks to epidural injections, to provide relief to patients suffering from chronic pain conditions.
These professionals are equipped with advanced medical knowledge and technologies to monitor vital signs and maintain critical life functions during surgical procedures. This includes overseeing respiratory and cardiovascular stability, ensuring patient safety throughout the surgery.
Anesthesiology specialists in Chittagong also play a significant role in emergency medicine, responding to critical situations where rapid anesthetic intervention is required. They are trained to handle various emergencies, providing life-saving care in acute settings.
Many anesthesiology specialists in Chittagong engage in continuous education and training to stay updated with the latest advancements in anesthetic techniques and patient safety measures. This commitment ensures that they offer the most current and effective care to their patients.
In summary, anesthesiology specialists in Chittagong are indispensable in the medical community, providing crucial services in surgical care, pain management, and emergency medicine. Their expertise in administering anesthesia, combined with a focus on patient safety and ongoing professional development, ensures high-quality medical care, contributing significantly to the healthcare landscape of Chittagong.