Psychiatry (Mental) Specialist in Dhaka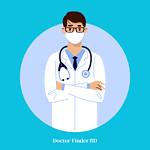 MBBS, FCPS (Psychiatry), MACP (USA), WHO Fellowship (India)
Psychiatry & Mental Health Specialist
National Institute of Mental Health & Hospital
Psychiatry (Mental) Specialist in Dhaka
Psychiatry specialists, or psychiatrists, in Dhaka are essential for addressing the mental health needs of the city's population. In a bustling urban environment, the demand for mental health services is significant, given the stresses of modern life and the impact of mental health on overall well-being.
Psychiatrists in Dhaka diagnose and treat a wide range of mental health disorders, including depression, anxiety disorders, bipolar disorder, schizophrenia, and personality disorders. They also provide care for patients dealing with substance abuse, eating disorders, and trauma-related conditions like post-traumatic stress disorder (PTSD).
These specialists employ various methods to assess mental health conditions, including psychological evaluations, interviews, and, when necessary, collaboration with other healthcare professionals for comprehensive assessments. Treatment plans typically involve a combination of medication management and psychotherapy, tailored to the specific needs of each patient.
Psychotherapy, or talk therapy, is a key component of treatment and may include individual therapy, group therapy, or family therapy. Psychiatrists in Dhaka are skilled in various therapeutic techniques, such as cognitive-behavioral therapy (CBT), interpersonal therapy, and psychodynamic therapy.
In addition to direct patient care, psychiatrists in Dhaka often play a role in raising awareness about mental health, destigmatizing mental illness, and promoting mental well-being. They may conduct workshops, seminars, and participate in public health initiatives to educate the community about mental health issues.
Many psychiatrists in Dhaka are also involved in ongoing research and professional development to stay updated with the latest advancements in psychiatric medicine. This commitment ensures they provide the most current and effective treatments to their patients.
In summary, psychiatry specialists in Dhaka are crucial in the healthcare landscape, providing expert care for a range of mental health conditions. Their expertise in diagnosis and treatment, combined with a focus on patient education and advocacy for mental health, plays a significant role in improving the mental well-being and quality of life of individuals in Dhaka.