Pediatric Orthopedic Surgeon in Dhaka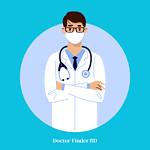 MBBS, D-ORTHO, MS (ORTHO)
Pediatric Orthopedics, Hand Surgery & Bone Tumor Surgery Specialist
Evercare Hospital, Dhaka
Pediatric Orthopedic Surgeon in Dhaka
Pediatric orthopedic surgeons in Dhaka specialize in diagnosing and treating musculoskeletal issues in children, ranging from infants to adolescents. These highly trained surgeons address a variety of conditions, including congenital deformities, growth-related problems, injuries, and diseases affecting bones, joints, and muscles in young patients.
In Dhaka, pediatric orthopedic surgeons are equipped with the knowledge and skills to manage conditions such as clubfoot, scoliosis, limb length discrepancies, fractures, and hip dysplasia, among others. They use a combination of non-surgical and surgical methods, tailoring treatments to the unique needs of each child, considering their ongoing growth and development.
These specialists are known for their patient-centric approach, creating a comforting and reassuring environment for both the children and their families. They understand the unique challenges of treating young patients and strive to make the treatment process as comfortable and non-intimidating as possible.
Pediatric orthopedic surgeons in Dhaka utilize the latest diagnostic tools and surgical techniques, including minimally invasive procedures, which are less traumatic and allow for quicker recovery and minimal scarring. This is particularly important in pediatric patients, where preserving normal growth and function is crucial.
Beyond clinical care, these surgeons often work closely with a multidisciplinary team, including pediatricians, physical therapists, and occupational therapists, to provide comprehensive care. This team approach ensures holistic treatment, from the initial diagnosis to rehabilitation and follow-up care.
Additionally, many pediatric orthopedic surgeons in Dhaka are involved in ongoing education and research, staying updated on the latest advancements in pediatric orthopedics. This commitment to continuous learning ensures that they bring the most effective and innovative treatments to their young patients.
In summary, pediatric orthopedic surgeons in Dhaka are vital in addressing the complex orthopedic needs of children. Their specialized training, combined with a compassionate approach and the use of advanced techniques, ensures high-quality care for the younger population. They play a crucial role in helping children overcome musculoskeletal challenges, enabling them to lead active and healthy lives.