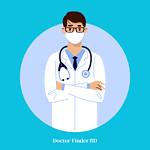 MBBS, DDV, MCPS, MD (SKIN & VD), PGT (LASER), FRCP (Glasgow), MACP (USA)
Dermatology, Venereology, Sex Specialist & Dermatosurgeon
Evercare Hospital, Dhaka
Skin specialists, also known as dermatologists, in Dhaka are essential in diagnosing and treating a wide array of skin, hair, and nail conditions. In the dynamic environment of Bangladesh's capital, these experts address issues ranging from common dermatological conditions to more complex skin diseases, catering to the diverse needs of the city's population.
In Dhaka, skin specialists are equipped to manage various skin conditions such as acne, eczema, psoriasis, fungal infections, and hair loss. They also deal with more serious issues like skin cancers, providing expert care and guidance. Their services extend to cosmetic dermatology, offering treatments like laser therapy, chemical peels, and other procedures for skin rejuvenation and aesthetic enhancement.
These specialists use a combination of clinical examination and diagnostic tests, including skin biopsies and allergy testing, to accurately diagnose conditions. This comprehensive approach is crucial for effective treatment planning, which may involve topical medications, oral drugs, and advanced therapeutic procedures.
Dermatologists in Dhaka are also focused on educating patients about skin care, sun protection, and the prevention of skin diseases. They provide valuable guidance on managing chronic skin conditions and maintaining healthy skin, which is particularly important in a city with environmental challenges like pollution and high humidity.
Moreover, many skin specialists in Dhaka engage in continuous learning and research to stay updated on the latest advancements in dermatology. This dedication ensures that they bring the most current and effective treatment options to their patients, aligning with international dermatological standards.
In summary, skin specialists in Dhaka play a crucial role in healthcare, offering expert diagnosis and treatment for a wide range of skin-related issues. Their commitment to providing comprehensive care, combined with a focus on patient education and the use of advanced dermatological techniques, ensures high-quality care for patients seeking dermatologic services in the city.