Neuro medicine Specialist in Dhaka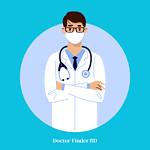 MBBS, FCPS (Medicine), MD (Neurology)
Neurology (Brain, Stroke, Nerve, Migraine, Headache) & Medicine Specialist
Holy Family Red Cresent Medical College & Hospital
Neuro medicine Specialist in Dhaka
Neuro medicine specialists, or neurologists, in Dhaka are integral to the healthcare system, focusing on diagnosing and treating disorders of the nervous system. This includes diseases and conditions affecting the brain, spinal cord, nerves, and muscles. In a densely populated city like Dhaka, the demand for such specialized care is significant, given the impact of neurological disorders on overall health and quality of life.
Neuro medicine specialists in Dhaka are adept at managing a wide range of neurological conditions, including stroke, epilepsy, Parkinson's disease, Alzheimer's disease, multiple sclerosis, migraine headaches, and neuropathies. They are also skilled in treating various forms of movement disorders, sleep disorders, and neuromuscular diseases.
In diagnosing neurological conditions, these specialists utilize a variety of tools and tests, such as EEG (electroencephalography) for brain activity analysis, EMG (electromyography) for assessing muscle health, and MRI (magnetic resonance imaging) and CT (computed tomography) scans for detailed imaging of brain and spinal cord structures.
Treatment strategies employed by neuro medicine specialists in Dhaka include medication management, lifestyle modifications, rehabilitation therapies, and coordination with other healthcare professionals for comprehensive care. In cases like stroke or neurodegenerative diseases, timely and effective treatment is crucial for managing symptoms and improving patient outcomes.
Neuro medicine specialists in Dhaka are also keenly involved in patient education, helping patients and their families understand complex neurological disorders and their management. This aspect of care is vital for chronic conditions that require long-term treatment and lifestyle adjustments.
Furthermore, many of these specialists engage in ongoing research and professional development to stay abreast of the latest advancements and innovations in neurology. This dedication ensures that they provide the most up-to-date and effective treatments to their patients.
In summary, neuro medicine specialists in Dhaka are essential in the medical community, providing expert care for a variety of neurological conditions. Their expertise in diagnosis and treatment, combined with a focus on patient-centered care and continuous learning, ensures high-quality care for patients with neurological disorders, contributing significantly to the healthcare landscape in Dhaka.