Neurology Specialist in Dhaka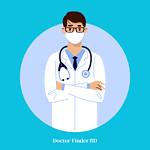 MBBS, FCPS (Medicine), MD (Neurology)
Neurology (Brain, Stroke, Nerve, Migraine, Headache) & Medicine Specialist
Holy Family Red Cresent Medical College & Hospital
Neurology Specialist in Dhaka
Neurology specialists in Dhaka are integral to the healthcare landscape, focusing on diagnosing and treating disorders of the brain, spinal cord, nerves, and muscles. These specialists, based in the capital of Bangladesh, provide expert care for a range of neurological conditions, from common ailments like migraines and epilepsy to more complex diseases such as Parkinson's, Alzheimer's, multiple sclerosis, and stroke.
In Dhaka, neurology specialists use a combination of clinical examination and advanced diagnostic tools, including MRI, CT scans, electroencephalograms (EEG), and electromyography (EMG), to accurately diagnose neurological conditions. This precise diagnostic approach is crucial for effective treatment planning and management of neurological diseases.
Treatment options offered by these specialists vary depending on the condition and may include medications, rehabilitation therapies, and in some cases, referrals for surgical intervention. They are skilled in managing both acute neurological emergencies and chronic conditions, providing tailored treatment plans that address each patient's specific needs.
Neurology specialists in Dhaka are also deeply committed to the aspects of patient education and preventive care. They guide patients and their families on managing neurological disorders, understanding treatment options, and making lifestyle changes that can help manage or improve symptoms.
Furthermore, many neurologists in Dhaka are involved in research and stay updated with the latest developments in neurology. This engagement ensures that patients in Dhaka have access to the most current and innovative treatments and therapies in the field of neurology.
In summary, neurology specialists in Dhaka are key figures in providing comprehensive care for neurological conditions. Their expertise in advanced diagnostic techniques, combined with a patient-centric approach to treatment, ensures high-quality care for those suffering from neurological disorders. Their dedication to ongoing research and professional development further enhances the quality of neurological care available in Dhaka, contributing to the city's reputation as a center for medical excellence.