Hematology (Blood) Specialist in Dhaka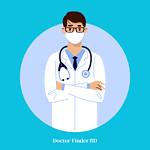 MBBS, DCH (Glasgow), MRCP (UK), FRCP (Edin), FRCP (Glasgow)
Pediatric Hematology Specialist
Anwer Khan Modern Medical College & Hospital
Hematology (Blood) Specialist in Dhaka
Hematology specialists in Dhaka, focusing on blood-related disorders, are crucial in diagnosing and treating a wide range of hematological conditions. These medical professionals play a vital role in managing diseases related to blood cells, bone marrow, blood vessels, lymph nodes, and the coagulation system.
In Dhaka, hematologists deal with various blood disorders, including anemia (of various types), hemophilia, blood clots (thrombosis), bleeding disorders, and blood cancers like leukemia, lymphoma, and myeloma. They are skilled in performing diagnostic tests such as complete blood counts (CBC), bone marrow biopsies, and clotting factor analyses to accurately diagnose these conditions.
These specialists are also adept at providing treatments that range from medication management (like anticoagulants and chemotherapy) to more advanced therapies such as bone marrow or stem cell transplantation. Their expertise is particularly crucial in managing complex blood cancers, where treatment requires a nuanced and individualized approach.
Hematologists in Dhaka also play a significant role in patient education, counseling patients, and their families about the nature of their condition, treatment options, and management of symptoms. This is crucial in chronic conditions like hemophilia or sickle cell anemia, where ongoing management and patient awareness significantly impact the quality of life.
Moreover, many hematologists in Dhaka are actively involved in research and keep up-to-date with the latest advancements in hematology. This commitment to staying at the forefront of their field ensures that patients in Dhaka have access to the most current and effective treatment options.
In summary, hematology specialists in Dhaka are key to the healthcare system, providing expert care for patients with a range of blood disorders. Their expertise in diagnosis and treatment, combined with a focus on patient education and ongoing research, ensures high-quality care for individuals with hematological conditions, contributing to the overall health and well-being of the community in Dhaka.