Chest & Asthma Specialist in Dhaka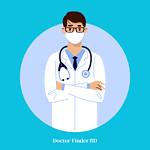 MBBS (DMC), BCS (Health), MD (Chest), MCPS (Medicine), DTCD (Chest), FCCP (USA)
Chest Diseases, Asthma, Allergy, TB & Respiratory Medicine Specialist
National Institute of Diseases of the Chest & Hospital
Chest & Asthma Specialist in Dhaka
Chest and asthma specialists in Dhaka, also known as pulmonologists or respiratory medicine specialists, play a vital role in diagnosing and treating conditions related to the respiratory system. Their expertise is particularly crucial in a city like Dhaka, where environmental factors such as pollution can significantly impact respiratory health.
These specialists have a deep understanding of pulmonary diseases and are skilled in managing various conditions, including asthma, chronic obstructive pulmonary disease (COPD), pneumonia, tuberculosis, and lung cancer. They are also adept at treating sleep-related breathing disorders and complex chest infections, which are common in densely populated urban areas.
In managing asthma, which is a prevalent condition in Dhaka, these specialists focus on providing personalized care plans. They employ a range of diagnostic tools, such as spirometry, to assess lung function and determine the severity of asthma. Based on the diagnosis, they devise comprehensive treatment plans that may include inhalers, medications, and lifestyle modifications to help patients manage their symptoms and improve their quality of life.
Chest and asthma specialists in Dhaka are also well-versed in the latest therapeutic approaches, including advanced bronchial therapies and biologic treatments for severe asthma cases. They emphasize the importance of regular monitoring and follow-up care to effectively manage chronic respiratory conditions.
Moreover, these specialists play a key role in educating patients and the community about respiratory health, prevention of respiratory diseases, and the importance of air quality. They often advise on measures to reduce exposure to allergens and pollutants, which are crucial in a city with high levels of air pollution.
Many chest and asthma specialists in Dhaka are also involved in research and collaborative efforts to improve the understanding and treatment of respiratory diseases. They stay updated with the latest developments in pulmonology, ensuring that their patients benefit from the most current and effective treatment options.
In summary, chest and asthma specialists in Dhaka are essential in addressing the respiratory health needs of the city's population. Their expertise in diagnosing and treating a wide range of pulmonary conditions, combined with a commitment to patient education and preventive care, makes them a vital asset in enhancing the respiratory health and well-being of individuals living in Dhaka.