Kidney Specialist in Dhaka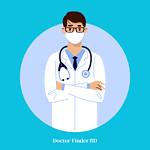 MBBS, FCPS (Medicine), FRCP (Edin), FRCP (Glasg), FACP (USA), FWHO (Nephrology)
Kidney Diseases & Medicine Specialist
National Institute of Kidney Diseases & Urology
Kidney Specialist in Dhaka
Kidney specialists, also known as nephrologists, in Dhaka play a vital role in diagnosing and treating diseases and disorders related to the kidneys. Given the rising incidence of kidney-related health issues in urban areas like Dhaka, the services of these specialists are increasingly important.
In Dhaka, kidney specialists manage a variety of conditions affecting kidney function, including chronic kidney disease (CKD), acute kidney injury, glomerulonephritis, and electrolyte disturbances. They are also proficient in treating hypertension and diabetic nephropathy, which are common causes of kidney damage.
These specialists use advanced diagnostic tools such as blood tests, urine analysis, ultrasound, and, in certain cases, kidney biopsies to accurately diagnose kidney conditions. Early and accurate diagnosis is essential for effective treatment and prevention of progression to more severe stages, including kidney failure.
Treatment plans developed by kidney specialists in Dhaka may include medication management to control symptoms and underlying causes, dietary and lifestyle modifications to support kidney health, and dialysis therapy for more advanced stages of kidney disease. In cases of end-stage renal disease, they may also coordinate with transplant teams for kidney transplantation.
Kidney specialists in Dhaka are not only involved in the clinical management of kidney diseases but also focus on patient education and preventive care. They counsel patients on managing their conditions, understanding the impact of diet and lifestyle on kidney health, and recognizing the importance of regular monitoring and follow-up.
Moreover, many nephrologists in Dhaka are active in research and continuous professional development to stay abreast of the latest advancements in nephrology. This commitment ensures that they offer the most current and effective treatments to their patients.
In summary, kidney specialists in Dhaka are essential in the healthcare landscape, providing expert care for a range of kidney-related conditions. Their expertise in diagnosis and treatment, combined with a focus on patient education and preventive care, makes them crucial in managing the kidney health of individuals in Dhaka, thereby improving the overall quality of life for those with kidney diseases.