Diabetes & Hormone Specialist in Dhaka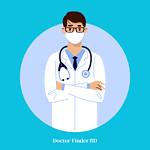 MBBS, (DMC), FCPS (Medicine), FACE (USA)
Medicine & Diabetes Specialist
Birdem General Hospital & Ibrahim Medical College
Diabetes & Hormone Specialist in Dhaka
Diabetes and hormone specialists in Dhaka are essential in addressing the growing concern of endocrine disorders, particularly diabetes, which is a major health challenge in the region. These endocrinologists are highly trained to diagnose, treat, and manage a range of hormonal imbalances, with a particular focus on diabetes management.
In Dhaka, these specialists cater to a rising population of patients with type 1, type 2, and gestational diabetes, offering cutting-edge treatment and comprehensive management plans. They utilize the latest in medical advancements for monitoring and controlling blood sugar levels, including modern insulin therapies and glucose monitoring systems. Their expertise also extends to managing complications associated with diabetes, such as cardiovascular disease, kidney issues, and neuropathy.
Beyond diabetes, hormone specialists in Dhaka address other endocrine disorders like thyroid diseases, adrenal disorders, osteoporosis, and pituitary gland abnormalities. They provide a range of diagnostic services, including hormonal blood tests and imaging studies, to accurately identify these conditions.
These specialists are also dedicated to patient education and preventive care. They work closely with patients to develop lifestyle modification plans, focusing on diet, exercise, and weight management, which are crucial in managing diabetes and other hormonal disorders. This approach is vital for both the treatment and prevention of these conditions.
Furthermore, many diabetes and hormone specialists in Dhaka are actively involved in research and community outreach programs. They stay updated with global trends in endocrinology and bring this knowledge to their practice, benefiting patients in Dhaka.
In summary, diabetes and hormone specialists in Dhaka are at the forefront of managing a critical aspect of healthcare in the city. Their expertise in handling complex endocrine disorders, combined with a commitment to patient education and preventive care, makes them pivotal in enhancing the quality of life for patients dealing with these chronic conditions. Their efforts not only address immediate health concerns but also contribute to the broader goal of improving public health standards in the region.