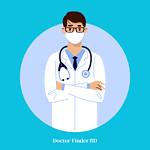 MBBS, DLO, MS (ENT), FCPS (ENT)
Special Training in Head Neck Surgery Laser Surgery (Pune), Rhinoplasty (Delhi), Oral, Maxillofacial & Head Neck Cancer & Re-construction (Shanghai, Bangalore & Hongkong)
Ear, Nose, Throat Specialist & Head Neck Surgeon
Dhaka Medical College & Hospital
ENT (Ear, Nose, and Throat) specialists in Dhaka, also known as otolaryngologists, play a pivotal role in diagnosing and treating a wide range of disorders related to the head and neck region. These medical professionals are crucial in addressing the ENT healthcare needs of the densely populated capital of Bangladesh.
In Dhaka, ENT specialists are equipped with the expertise and the latest technology to treat common conditions such as sinusitis, allergic rhinitis, ear infections, tonsillitis, and throat disorders. They also have the capability to handle more complex issues, including hearing loss, balance disorders, tinnitus, and voice and swallowing problems. Their skill set extends to managing head and neck cancers, reconstructive and facial plastic surgeries, and advanced endoscopic sinus surgeries.
The city's ENT specialists offer comprehensive diagnostic services, including audiometric testing for hearing assessment and endoscopic procedures for visualizing the nasal cavity, sinuses, and larynx. This allows for accurate diagnosis and effective treatment planning.
ENT care in Dhaka is not limited to treatment; these specialists are also deeply committed to preventive care and patient education. They advise on managing allergies, preventing ear infections, and maintaining overall ear and nasal health, especially in a city where environmental factors can significantly impact these areas.
Moreover, many ENT specialists in Dhaka are actively involved in research and continuous education to stay updated with the latest advancements in otolaryngology. This commitment ensures that patients in Dhaka have access to current and effective ENT care, comparable to international standards.
In summary, ENT specialists in Dhaka are key figures in the healthcare sector, offering a wide range of services for ear, nose, and throat related conditions. Their expertise, combined with modern medical technology, ensures comprehensive and effective care for patients. Through their dedication to both treatment and preventive care, these specialists significantly contribute to the overall health and well-being of the residents of Dhaka.