Orthopedic Specialist in Dhaka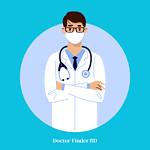 MBBS, D-ORTHO, MS (ORTHO)
Pediatric Orthopedics, Hand Surgery & Bone Tumor Surgery Specialist
Evercare Hospital, Dhaka
Orthopedic Specialist in Dhaka
Orthopedic specialists in Dhaka are essential in diagnosing, treating, and managing musculoskeletal disorders. This includes conditions affecting bones, joints, muscles, ligaments, and tendons. In a populous city like Dhaka, where both acute injuries and chronic musculoskeletal conditions are common, the role of orthopedic specialists is crucial.
These specialists are skilled in addressing a wide range of orthopedic issues, such as fractures, joint dislocations, sports injuries, arthritis, osteoporosis, and spinal disorders. They also treat congenital orthopedic conditions and provide care for degenerative diseases that affect the elderly, like osteoarthritis.
Orthopedic specialists in Dhaka use various diagnostic tools, including X-rays, MRI scans, and CT scans, to accurately diagnose conditions. They also employ physical examinations and patient history to understand the full scope of the issue.
Treatment approaches vary depending on the condition and its severity. Non-surgical treatments like physiotherapy, pain management, and rehabilitation exercises are often the first line of treatment. However, when surgery is required, these specialists are proficient in performing procedures such as joint replacements (like hip and knee replacements), arthroscopic surgeries for joint conditions, spinal surgeries, and fixation of fractures.
In addition to clinical work, many orthopedic specialists in Dhaka engage in educating patients about injury prevention, especially in sports, workplace ergonomics, and maintaining bone and joint health. This preventive aspect is essential in reducing the incidence of musculoskeletal injuries and conditions.
Furthermore, orthopedic specialists in Dhaka often participate in continuous learning and professional development. This commitment ensures they stay abreast of the latest surgical techniques, treatments, and advancements in orthopedic care.
In summary, orthopedic specialists in Dhaka play a vital role in the healthcare sector, offering expert care for a wide range of musculoskeletal conditions. Their expertise in both surgical and non-surgical treatments, combined with a focus on patient education and preventive care, ensures comprehensive care for patients, enhancing their quality of life and mobility.