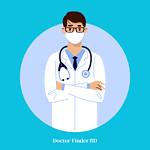 MBBS, FCPS (EYE), MS (EYE), Fellowship in Oculoplasty, ICO (UK)
Eye Specialist & Phaco Surgeon
Bangabandhu Sheikh Mujib Medical University Hospital
Eye specialists, or ophthalmologists, in Dhaka play an essential role in providing comprehensive eye care to the city's populace. In the bustling capital of Bangladesh, these medical professionals are crucial in diagnosing, treating, and managing a wide range of eye conditions and diseases.
In Dhaka, eye specialists are equipped to handle various ocular conditions, including common issues like refractive errors (myopia, hyperopia, and astigmatism), cataracts, glaucoma, and diabetic retinopathy. They also treat more complex conditions such as retinal detachments, macular degeneration, uveitis, and eye infections.
These specialists use advanced diagnostic tools and techniques to accurately assess eye health. This includes slit-lamp examinations, retinal imaging, visual field testing, and ocular pressure measurements. Early and accurate diagnosis is critical for effective treatment and prevention of vision impairment or loss.
Treatments offered by eye specialists in Dhaka range from prescribing glasses and contact lenses to manage refractive errors, to performing surgical procedures like cataract extraction, glaucoma surgery, or laser surgeries for vision correction. They are skilled in both traditional surgical techniques and the latest minimally invasive procedures, ensuring patients have access to the best possible care.
Eye specialists in Dhaka are also involved in preventive eye care, educating patients on maintaining good eye health, and early detection of eye diseases. This is particularly important in a city where environmental factors, such as pollution, can affect eye health.
Moreover, many of these specialists engage in ongoing education and research, keeping up-to-date with the latest advancements in ophthalmology. This dedication to professional development ensures they offer the most current and effective treatments to their patients.
In summary, eye specialists in Dhaka are key healthcare providers in the field of ophthalmology, offering a wide range of services for eye health management. Their expertise in diagnosing and treating various eye conditions, combined with their commitment to patient education and preventive care, makes them vital in preserving and enhancing the vision and overall quality of life for residents in Dhaka.