Dental Specialist in Dhaka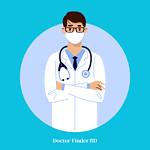 BDS, FCPS (Orthodontics)
Orthodontics (Braces, Bite Problem, Jaw Problem) Specialist & Surgeon
Sapporo Dental College & Hospital
Dental Specialist in Dhaka
Dental specialists in Dhaka play a crucial role in oral health care, offering a range of services to address various dental needs and conditions. In the rapidly growing capital of Bangladesh, these professionals are essential for providing both routine and specialized dental care to a diverse population.
Dental specialists in Dhaka encompass various fields of dentistry, including orthodontics, periodontics, endodontics, prosthodontics, pediatric dentistry, and oral and maxillofacial surgery. Each specialty focuses on different aspects of dental care:
1. **Orthodontics:** Specialists in this field deal with the alignment of teeth and jaws, providing braces and other orthodontic treatments to correct malocclusions and improve smiles.
2. **Periodontics:** These specialists focus on the health of the gums and the supporting structures of the teeth, treating conditions like gum disease and performing surgeries for gum recession and dental implants.
3. **Endodontics:** Endodontists specialize in treating the inside of the tooth, particularly performing root canal treatments to save teeth with infected or damaged pulp.
4. **Prosthodontics:** Prosthodontists are experts in dental prostheses, providing crowns, bridges, dentures, and implants to replace missing or damaged teeth.
5. **Pediatric Dentistry:** These dentists specialize in treating children from infancy through adolescence, focusing on the unique dental issues of this age group.
6. **Oral and Maxillofacial Surgery:** This specialty involves surgical procedures related to the mouth, jaw, and face, including tooth extractions, corrective jaw surgery, and treatment of traumatic injuries.
Dental specialists in Dhaka are equipped with modern technology and facilities, ensuring that patients receive high-quality care. They use advanced diagnostic tools like digital X-rays and 3D imaging to accurately diagnose and plan treatments.
Moreover, many of these specialists emphasize preventive care and patient education, focusing on the importance of regular dental check-ups, oral hygiene, and lifestyle choices that affect dental health.
In summary, dental specialists in Dhaka provide essential services across various disciplines, ensuring comprehensive oral healthcare for the city's residents. Their expertise, combined with the use of modern technology and a focus on patient-centered care, makes them integral to maintaining the oral health and well-being of individuals in Dhaka.