Liver Specialist in Dhaka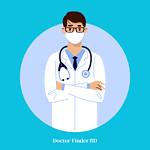 MBBS, FCPS (Medicine), MD (Gastroenterology), MACG (USA), FRCP (UK)
Gastrointestinal & Liver Diseases Specialist
Sir Salimullah Medical College & Mitford Hospital
Liver Specialist in Dhaka
Liver specialists, or hepatologists, in Dhaka play a crucial role in diagnosing, treating, and managing various liver diseases. The prevalence of liver-related health issues in urban areas like Dhaka, often influenced by lifestyle factors, viral hepatitis, and other causes, underscores the importance of these medical professionals.
Liver specialists in Dhaka deal with a range of conditions affecting liver function, including hepatitis (A, B, C, and others), cirrhosis, fatty liver disease (both alcoholic and non-alcoholic), liver cancer, and liver failure. They are also skilled in managing complications related to liver disease, such as ascites, jaundice, and portal hypertension.
These specialists use a variety of diagnostic tools to assess liver health, including liver function tests, imaging studies like ultrasound and MRI, and liver biopsies when necessary. Accurate diagnosis is crucial for effective treatment and management of liver diseases.
Treatment approaches employed by liver specialists in Dhaka may include medication for viral hepatitis, management of autoimmune liver diseases, lifestyle modifications for fatty liver disease, and advanced therapies for liver cancer. In cases of advanced liver disease or liver failure, they may also oversee the management of liver transplantation.
Beyond clinical care, liver specialists in Dhaka focus on preventive health measures. They provide education on reducing the risk of liver diseases through lifestyle choices, such as healthy eating, avoiding alcohol abuse, and preventing viral hepatitis through vaccination and safe practices.
Many liver specialists in Dhaka are also actively involved in research and are part of broader networks of hepatology experts, staying updated with the latest advancements and treatments in liver health. This ensures that patients in Dhaka have access to state-of-the-art care.
In summary, liver specialists in Dhaka are key figures in the healthcare system, offering essential services in managing and treating liver diseases. Their expertise in diagnostic and therapeutic techniques, combined with a focus on patient education and preventive care, makes them vital in improving liver health and outcomes for patients in Dhaka.