Physical Medicine Specialist in Dhaka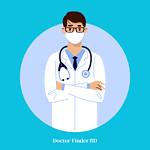 MBBS, FCPS (Physical Medicine), PhD (Rheumatology), MACP (USA)
Physical Medicine & Rheumatology Specialist
Bangabandhu Sheikh Mujib Medical University Hospital
Physical Medicine Specialist in Dhaka
Physical medicine specialists in Dhaka, also known as physiatrists, are healthcare professionals dedicated to diagnosing, treating, and managing disorders related to movement, function, and pain, primarily focusing on rehabilitation. In Dhaka, these specialists play a crucial role in helping patients recover and regain functionality after injuries, surgeries, or due to chronic conditions.
These experts are adept at treating a wide array of conditions including, but not limited to, sports injuries, spinal cord injuries, stroke, musculoskeletal pain syndromes like back pain, and conditions such as cerebral palsy and multiple sclerosis. They employ non-surgical treatments that may include physical therapy, medication, injections, and assistive devices, aiming to enhance and restore functional ability and quality of life.
Physical medicine specialists in Dhaka work closely with a multidisciplinary team that often includes physical therapists, occupational therapists, and speech therapists. This collaborative approach ensures comprehensive care, addressing the physical, emotional, and psychological needs of patients.
In addition to clinical treatment, these specialists emphasize the importance of patient education and self-management strategies. They guide patients in understanding their conditions and the rehabilitation process, helping them to become active participants in their recovery and long-term health management.
Many physiatrists in Dhaka also have expertise in conducting and interpreting electromyography (EMG) and nerve conduction studies, which are essential for diagnosing conditions that affect muscle and nerve function. They are also skilled in prescribing and managing various rehabilitation therapies and modalities.
Furthermore, some physical medicine specialists in Dhaka are involved in research and development in the field of rehabilitation medicine. They stay abreast of the latest advancements and techniques, ensuring that they offer the most current and effective treatments to their patients.
In summary, physical medicine specialists in Dhaka are key to the healthcare system, offering expert care in rehabilitation and physical medicine. Their focus on non-surgical treatment options, coupled with a multidisciplinary approach, provides essential support to individuals recovering from injuries, surgeries, and managing chronic conditions, helping them to lead more active and fulfilling lives.