Rheumatology Specialist in Dhaka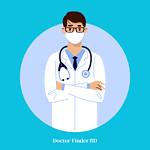 MBBS, FCPS (Physical Medicine), PhD (Rheumatology), MACP (USA)
Physical Medicine & Rheumatology Specialist
Bangabandhu Sheikh Mujib Medical University Hospital
Rheumatology Specialist in Dhaka
Rheumatology specialists in Dhaka are pivotal in diagnosing and treating rheumatic diseases, which are complex and often chronic conditions affecting the joints, muscles, and connective tissues. These specialists, operating in Bangladesh's capital, are adept at managing a wide array of autoimmune and inflammatory disorders, including rheumatoid arthritis, lupus, osteoarthritis, gout, and ankylosing spondylitis.
In Dhaka, rheumatology specialists employ a comprehensive approach to patient care. They focus on early diagnosis and intervention, which is crucial in managing rheumatic diseases effectively. Utilizing a range of diagnostic tools such as blood tests for autoimmune markers, X-rays, and MRIs, they can accurately identify the specific rheumatic condition affecting a patient.
Treatment plans devised by these specialists are tailored to each individual's condition and needs. They typically involve a combination of medication management, which may include non-steroidal anti-inflammatory drugs (NSAIDs), corticosteroids, and disease-modifying antirheumatic drugs (DMARDs), as well as newer biologic agents that specifically target immune system pathways.
Beyond medical treatment, rheumatology specialists in Dhaka emphasize the importance of lifestyle modifications and physical therapy to improve joint function and overall quality of life for their patients. They often work closely with physical therapists and other healthcare professionals to devise comprehensive management plans that address the physical, emotional, and social aspects of living with a rheumatic disease.
Moreover, these specialists are committed to patient education, helping individuals understand their condition and how to manage it effectively. This empowerment is a crucial aspect of long-term disease management, particularly for chronic conditions that require ongoing care and monitoring.
Many rheumatology specialists in Dhaka also stay abreast of the latest research and advancements in the field, ensuring that their patients benefit from the most current and effective treatment strategies.
In summary, rheumatology specialists in Dhaka are key healthcare providers in managing a range of complex rheumatic and autoimmune conditions. Their expertise in diagnosis, comprehensive treatment approaches, and patient education plays a vital role in improving the lives of individuals suffering from these chronic diseases. Through their dedicated efforts, these specialists significantly contribute to enhancing the quality of rheumatologic care in the city.