Cardiac Surgery Specialist in Dhaka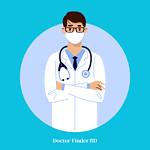 MBBS, FCPS (Surgery), MCPS (Surgery), FICS (USA)
General & Cardiac Surgeon
Combined Military Hospital, Dhaka
Cardiac Surgery Specialist in Dhaka
Cardiac surgery specialists in Dhaka are highly skilled professionals who play a pivotal role in treating heart-related ailments requiring surgical intervention. In the bustling capital of Bangladesh, these cardiac surgeons handle a wide array of complex heart conditions, employing both traditional and advanced surgical techniques.
In Dhaka, cardiac surgery specialists are proficient in performing various types of heart surgeries, including coronary artery bypass grafting (CABG), valve repair and replacement, surgeries for congenital heart defects, and procedures for heart failure such as heart transplants or ventricular assist device (VAD) implantations. They also have expertise in minimally invasive cardiac surgery techniques, which offer patients benefits like smaller incisions, less pain, and quicker recovery times.
These specialists use state-of-the-art diagnostic and surgical equipment, enabling them to perform intricate cardiac procedures with precision. Preoperative and postoperative care is a critical part of their service, ensuring that patients receive comprehensive care throughout their surgical journey. This includes thorough assessments to determine the most appropriate surgical approach, close monitoring post-surgery, and detailed guidance during the recovery period.
Cardiac surgery specialists in Dhaka also work closely with a multidisciplinary team, including cardiologists, anesthesiologists, and specialized nurses, to provide coordinated and holistic care to their patients. This team approach is crucial for managing the complexities of cardiac conditions and surgeries.
Moreover, many of these surgeons are actively involved in research and continuing education to stay abreast of the latest advancements and techniques in cardiac surgery. This commitment to ongoing learning ensures that they can offer the most advanced and effective treatments to their patients.
In summary, cardiac surgery specialists in Dhaka are integral to the healthcare system, providing lifesaving surgical interventions for a range of heart conditions. Their expertise, combined with the use of modern surgical technologies and a patient-centered approach, ensures high-quality care for cardiac patients in Dhaka, significantly contributing to the advancements in cardiac care within the city.