Physiotherapy Specialist in Dhaka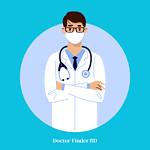 BPT, DSS (Exercise Physiology), MPH (Epidemiology), MSc (Physiotherapy)
Pain, Arthritis, Paralysis & Physiotherapy Specialist
IDSC, Ministry of Social Welfare
Physiotherapy Specialist in Dhaka
Physiotherapy specialists in Dhaka play a vital role in the rehabilitation and treatment of patients with physical impairments and disabilities. These healthcare professionals are skilled in using various techniques to improve mobility, alleviate pain, and restore functional ability, ultimately enhancing the quality of life for their patients.
In Dhaka, physiotherapy specialists cater to a diverse range of conditions, including musculoskeletal disorders like back pain, arthritis, and sports injuries, neurological conditions such as stroke, spinal cord injuries, and Parkinson's disease, as well as respiratory issues like chronic obstructive pulmonary disease (COPD) and cystic fibrosis.
These specialists utilize a variety of treatment modalities, including exercises, manual therapy techniques, electrotherapy, and hydrotherapy. Exercise programs are tailored to individual needs, focusing on strengthening, flexibility, balance, and coordination. Manual therapies may involve techniques like massage, mobilization, and manipulation to relieve pain and improve movement.
Physiotherapy specialists in Dhaka are also adept at providing post-operative rehabilitation, helping patients recover from surgeries such as joint replacements or cardiac surgery. They work closely with patients to develop personalized rehabilitation plans that aim to enhance recovery and prevent complications.
In addition to direct patient care, physiotherapy specialists in Dhaka focus on education, teaching patients about their conditions and how to manage them effectively. This includes advice on posture, ergonomics, and lifestyle modifications to prevent future injuries and promote overall well-being.
Many physiotherapy specialists in Dhaka engage in continuous professional development to stay abreast of the latest advancements in physiotherapy. They may also collaborate with other healthcare professionals, such as doctors, nurses, and occupational therapists, to provide comprehensive care.
In summary, physiotherapy specialists in Dhaka are key healthcare providers in the rehabilitation and management of a wide range of physical conditions. Their expertise in various therapeutic techniques, combined with a focus on patient education and holistic care, ensures effective treatment and improved quality of life for patients needing physiotherapeutic intervention.