Breast Specialist in Chittagong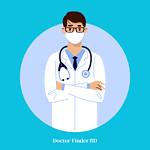 MBBS, BCS (Health), FCPS (Surgery)
General, Laparoscopic, Colorectal & Breast Specialist Surgeon
Chittagong Medical College & Hospital
Breast Specialist in Chittagong
Breast specialists in Chittagong are medical professionals with expertise in diagnosing and treating conditions related to the breast. Their role is crucial in a city like Chittagong, where access to specialized breast care is essential for women's health.
These specialists manage a variety of breast conditions, including benign breast diseases like fibrocystic changes, breast cysts, and infections, as well as more serious conditions like breast cancer. They are skilled in performing clinical breast exams and interpreting imaging studies such as mammograms, breast ultrasounds, and MRIs, which are vital for accurate diagnosis.
For patients with breast cancer, breast specialists in Chittagong provide comprehensive care, which may include surgical treatment (like lumpectomy or mastectomy), chemotherapy, radiation therapy, and hormone therapy, depending on the type and stage of cancer. They work closely with oncologists, radiologists, and other healthcare professionals to provide coordinated and multidisciplinary care.
In addition to treatment, breast specialists in Chittagong are also involved in breast health education and preventive care. They counsel women on breast cancer screening, breast self-examination techniques, and risk factors for breast diseases. This education is crucial for early detection and prevention of breast cancer.
Many breast specialists in Chittagong are dedicated to staying updated with the latest advancements in breast care through ongoing education and research. This ensures they offer the most effective and up-to-date treatment options to their patients.
In summary, breast specialists in Chittagong play a vital role in women's healthcare, offering expert care for various breast conditions, with a particular focus on breast cancer management. Their expertise in diagnosis, treatment, and preventive care, combined with a commitment to professional development, ensures comprehensive and high-quality breast healthcare services for women in Chittagong.