Cardiac Surgery Specialist in Chittagong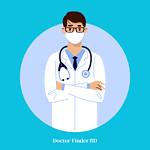 MBBS, MS (Thoracic Surgery)
Cardiovascular & Thoracic Surgery Specialist
Chittagong Medical College & Hospital
Cardiac Surgery Specialist in Chittagong
Cardiac surgery specialists in Chittagong, also known as cardiothoracic surgeons, are integral to the healthcare system, providing critical surgical interventions for heart-related conditions. In Chittagong, a major city in Bangladesh, their expertise is essential for treating complex cardiac disorders.
These specialists perform a variety of heart surgeries, including coronary artery bypass grafting (CABG), heart valve repair and replacement, surgeries for congenital heart defects, and procedures for heart failure, such as ventricular assist device (VAD) implantation or heart transplantation.
Cardiac surgery specialists in Chittagong utilize advanced surgical techniques and technologies to ensure the best outcomes for their patients. They are skilled in both traditional open-heart surgery and minimally invasive procedures, which offer benefits such as reduced trauma, shorter hospital stays, and quicker recovery times.
In addition to performing surgeries, these specialists are involved in the comprehensive care of cardiac patients, which includes preoperative evaluation, postoperative care, and rehabilitation. They collaborate closely with cardiologists, anesthesiologists, and other healthcare professionals to provide a multidisciplinary approach to patient care.
Many cardiac surgery specialists in Chittagong are also committed to ongoing education and research, staying abreast of the latest advancements in cardiac surgery and patient care. This dedication ensures they are equipped with the most current knowledge and skills to treat their patients effectively.
In summary, cardiac surgery specialists in Chittagong play a vital role in the medical community, offering lifesaving surgical interventions for a range of heart conditions. Their expertise in advanced surgical techniques, combined with a comprehensive approach to patient care, ensures high-quality treatment and care for cardiac patients, significantly contributing to the advancement of cardiac care in Chittagong.