Chest & Asthma Specialist in Chittagong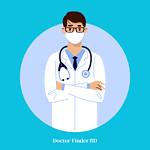 MBBS, DTCD, FCPS (Medicine), FCCP
Chest Diseases & Respiratory Medicine Specialist
Professor & Head, Respiratory Medicine
BGC Trust Medical College & Hospital
Chest & Asthma Specialist in Chittagong
Chest and asthma specialists in Chittagong, also known as pulmonologists or respiratory medicine specialists, play a crucial role in diagnosing and treating respiratory diseases. In Chittagong, a major urban center in Bangladesh, their expertise is especially important due to factors like pollution and high population density, which can exacerbate respiratory issues.
These specialists manage a wide range of respiratory conditions, including asthma, chronic obstructive pulmonary disease (COPD), pneumonia, tuberculosis, and lung cancer. They are also adept at treating sleep-related breathing disorders and complex chest infections, conditions that are prevalent in densely populated areas like Chittagong.
For asthma management, which is a common concern in urban settings, chest and asthma specialists provide comprehensive care. This involves conducting thorough assessments using tools like spirometry to measure lung function, prescribing appropriate medications (such as inhalers), and advising on lifestyle changes to better manage the condition and prevent exacerbations.
In addition to asthma, these specialists are equipped to handle acute and chronic respiratory conditions, offering treatments that may include bronchodilators, steroids, antibiotics, and in severe cases, advanced therapies like oxygen therapy or mechanical ventilation.
Chest and asthma specialists in Chittagong are also involved in patient education, highlighting the importance of avoiding triggers, adhering to treatment plans, and understanding the proper use of inhalers and other medical devices.
Many of these specialists stay updated with the latest advancements in respiratory medicine, ensuring they provide the most current and effective treatments. They may also participate in research and public health initiatives to improve respiratory care standards and awareness.
In summary, chest and asthma specialists in Chittagong are key healthcare providers in managing a variety of respiratory diseases. Their expertise in diagnosing, treating, and educating patients about respiratory conditions is crucial, particularly in an urban environment where such issues are prevalent, thereby enhancing the overall respiratory health of the community.