Child Cardiology Specialist in Chittagong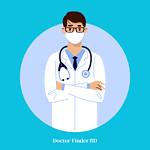 MBBS, MD (CHILD)
Fellow of Fortis Escort Heart Institute (India), Trained in Pediatric Cardiac Intervention (China & Malaysia)
Child Specialist & Pediatric Cardiologist
National Institute of Cardiovascular Diseases & Hospital
Child Cardiology Specialist in Chittagong
Child cardiology specialists in Chittagong, also known as pediatric cardiologists, are indispensable in diagnosing and treating heart conditions in infants, children, and adolescents. These specialists are key to addressing the unique cardiac needs of the younger population in this major urban center of Bangladesh.
Pediatric cardiologists in Chittagong manage a range of heart-related issues in children, including congenital heart defects (such as holes in the heart, valve problems), arrhythmias, cardiomyopathy, and heart failure. They are also skilled in dealing with conditions that may develop later in childhood due to other illnesses or genetic disorders.
These specialists use a variety of diagnostic tools tailored for children, including echocardiograms (ultrasound of the heart), electrocardiograms (ECG), and cardiac MRI, to accurately assess and diagnose heart conditions. Early and precise diagnosis is vital for effective treatment and can significantly impact a child's long-term health and development.
Treatment approaches by pediatric cardiologists in Chittagong can range from medication management to interventional procedures. In some cases, they collaborate with pediatric cardiac surgeons for surgical interventions, especially for complex congenital heart defects.
In addition to providing clinical care, child cardiology specialists in Chittagong are dedicated to educating families about their child's condition. They guide parents on managing their child's heart health, understanding the treatment process, and making lifestyle adjustments to support their child's overall well-being.
Many of these specialists also engage in ongoing research and professional development to stay abreast of the latest advancements in pediatric cardiology. This ensures they offer the most current and effective treatments to their young patients.
In summary, child cardiology specialists in Chittagong are crucial in providing expert cardiac care to children. Their specialized training, combined with a focus on compassionate, family-centered care and a commitment to staying updated with medical advancements, ensures that children in Chittagong have access to high-quality, specialized cardiac care, supporting their healthy growth and development.