Child Specialist in Chittagong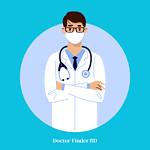 MBBS (CMC), BCS (Health), MD (Neonatology-BSMMU), FCPS (Pediatrics – P2)
Advanced Online Training on Neonatology in AIIMS (India), Advanced Online Training on Neonatal Manuscript (Queensland, Australia)
Pediatrics (Child) & Newborn ICU Specialist
Associate Professor & Head, Neonatology
Chittagong Medical College & Hospital
Child Specialist in Chittagong
Child specialists, or pediatricians, in Chittagong are essential healthcare providers dedicated to the medical care of infants, children, and adolescents. In Chittagong, a major city in Bangladesh, these specialists play a vital role in addressing the diverse health needs of the younger population.
Pediatricians in Chittagong are skilled in diagnosing and treating a wide range of childhood illnesses and conditions. This includes common ailments such as colds, flu, and infections, as well as more serious diseases like asthma, diabetes, and congenital disorders. They are also adept at managing growth and developmental milestones, ensuring that children achieve their full potential in these critical early years.
These child specialists offer routine health check-ups, vaccinations, and developmental screenings. Preventive healthcare is a key part of their role, as they guide parents on nutrition, safety, and wellness to promote healthy growth and development in children.
Pediatricians in Chittagong also provide support and care for children with special needs, including those with chronic conditions, developmental disorders, or disabilities. They work closely with families to develop personalized care plans and coordinate with other healthcare professionals, such as pediatric subspecialists, therapists, and educators, to provide comprehensive care.
Many pediatricians in Chittagong are involved in community health initiatives and public health education. They play a significant role in promoting health awareness, disease prevention, and vaccination campaigns, contributing to the overall health of the child population in the city.
Furthermore, these specialists often engage in ongoing education and training to stay abreast of the latest advancements in pediatric medicine. This commitment to professional development ensures that they provide up-to-date and effective care to their young patients.
In summary, child specialists in Chittagong are pivotal in ensuring the health and well-being of children in the city. Their expertise in pediatric healthcare, combined with a focus on preventive care and family education, makes them invaluable in supporting the healthy development and growth of children, thus contributing significantly to the community's overall health.