Child Specialist in Dhaka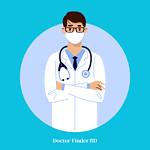 MBBS, DTM&H (London), MD (USA), Fellowship (USA)
Pediatrics & Neonatal Specialist
Asgar Ali Hospital, Dhaka
Child Specialist in Dhaka
Child specialists in Dhaka play an essential role in the healthcare landscape, focusing on the physical, emotional, and developmental well-being of children from infancy through adolescence. These pediatricians are dedicated to offering comprehensive health services for children in Bangladesh's capital, a city characterized by its diverse population and growing healthcare needs.
In Dhaka, child specialists are equipped with the knowledge and skills to diagnose and treat a wide range of childhood illnesses, from common ailments like colds and flu to more complex conditions such as asthma, allergies, and infectious diseases. They offer vaccinations, regular health check-ups, growth and development monitoring, and nutritional advice, ensuring a holistic approach to each child's health.
These pediatricians understand the unique healthcare needs of children, providing care that is not only medically sound but also sensitive to the emotional and developmental aspects of childhood. Their clinics are often designed to be child-friendly, creating a welcoming and comforting environment for young patients and their families.
Additionally, child specialists in Dhaka play a critical role in preventive healthcare. They educate parents and guardians about child health and development, promoting healthy lifestyles and preventive measures to safeguard against illness. This includes guidance on immunization schedules, nutrition, exercise, and injury prevention, which are crucial for the healthy growth and development of children.
Many of these specialists are also involved in community health initiatives, working to improve the overall health and well-being of children in Dhaka. They participate in public health campaigns, offer educational workshops, and collaborate with schools and community centers to reach a broader audience.
In summary, child specialists in Dhaka are pivotal in ensuring the health and well-being of the city's younger population. Their expertise in pediatric healthcare, combined with a compassionate approach, ensures that children in Dhaka have access to quality medical care. These specialists are not just healthcare providers but also educators and advocates for children's health, playing a significant role in shaping a healthier future for the next generation.