Colorectal Surgery (Female) Specialist in Dhaka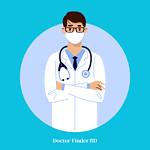 MBBS, FCPS (Surgery), MRCS (UK)
Highly Trained in Laser Piles Surgery (India) & Breast Surgery (UK)
Laparoscopic, Breast & Laser Piles Surgeon
Bangabandhu Sheikh Mujib Medical University Hospital
Colorectal Surgery (Female) Specialist in Dhaka
Colorectal surgery specialists in Dhaka, particularly those focusing on female patients, are essential in providing comprehensive care for diseases affecting the colon, rectum, and anus. These surgeons are highly skilled in addressing a range of conditions such as colorectal cancer, inflammatory bowel disease (including Crohn's disease and ulcerative colitis), diverticulitis, hemorrhoids, and anal fissures. They also have expertise in dealing with pelvic floor disorders, which are more prevalent in women, such as rectal prolapse and fecal incontinence.
In Dhaka, female colorectal surgery specialists offer advanced surgical options, including minimally invasive laparoscopic and robotic techniques. These approaches are particularly beneficial as they typically result in less postoperative pain, faster recovery, and minimal scarring. The expertise of these specialists is crucial in ensuring that surgical interventions are performed with precision, taking into account the unique anatomical and physiological considerations of female patients.
These surgeons work closely with a multidisciplinary team, including gastroenterologists, oncologists, and radiologists, to provide holistic care. They are involved in the entire treatment process, from diagnostic evaluations and preoperative counseling to postoperative care and follow-up.
Colorectal surgery specialists in Dhaka also play a vital role in patient education, helping women understand their conditions and the available treatment options. They provide guidance on post-surgical care, lifestyle modifications, and preventive measures to improve bowel health and reduce the risk of recurrence.
Furthermore, many of these specialists engage in continuous learning and research to stay updated on the latest advancements in colorectal surgery. This commitment to professional development ensures that they bring the most effective and innovative surgical techniques to their practice, enhancing the quality of care for female patients in Dhaka.
In summary, colorectal surgery (female) specialists in Dhaka are key healthcare providers, offering specialized surgical care for women with colorectal diseases. Their expertise in advanced surgical techniques, combined with a focus on patient-centered care and education, ensures comprehensive and effective treatment for female patients, significantly contributing to improving colorectal health and outcomes in Dhaka.