Colorectal Surgery Specialist in Chittagong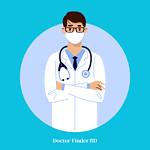 MBBS, FCPS (Surgery), FMAS (India), FACS (USA), FRCS (UK)
Specially Trained in Advanced Endo-Laparoscopy, Colorectal Surgery & Laser Proctology
General, Colorectal, Endo-Laparoscopic & Laser Surgeon
Dhaka Medical College & Hospital
Colorectal Surgery Specialist in Chittagong
Colorectal surgery specialists in Chittagong play a crucial role in the medical community, focusing on the diagnosis, treatment, and management of disorders affecting the colon, rectum, and anus. In a major city like Chittagong, their expertise is vital for addressing a range of colorectal conditions.
These specialists are skilled in managing various diseases and conditions such as colorectal cancer, inflammatory bowel diseases (including Crohn's disease and ulcerative colitis), diverticular disease, hemorrhoids, anal fissures, and fistulas. They are also adept at treating conditions like rectal prolapse and fecal incontinence, which can significantly impact a patient's quality of life.
Colorectal surgeons in Chittagong utilize a mix of traditional and advanced surgical techniques, including minimally invasive laparoscopic surgeries. These minimally invasive approaches are beneficial as they typically result in less pain, quicker recovery, and reduced risk of complications compared to traditional open surgeries.
In addition to surgical intervention, colorectal surgery specialists in Chittagong are involved in the comprehensive care of their patients. This includes pre-operative evaluations, counseling about the surgical procedures, and post-operative care, which is crucial for ensuring successful outcomes and minimizing the risk of complications.
Many of these specialists also focus on preventive measures and patient education, especially regarding colorectal cancer screening and awareness. Early detection through screening can significantly improve treatment outcomes for colorectal cancer.
Furthermore, colorectal surgery specialists in Chittagong often collaborate with other healthcare professionals, such as gastroenterologists, oncologists, and dietitians, to provide a multidisciplinary approach to patient care. This ensures a holistic treatment plan for patients suffering from colorectal disorders.
In summary, colorectal surgery specialists in Chittagong are key figures in the healthcare sector, offering expert surgical care for a variety of colorectal conditions. Their proficiency in both traditional and advanced surgical techniques, combined with a comprehensive approach to patient care, ensures high-quality treatment for patients, enhancing their overall health and well-being.