Dental Specialist in Chittagong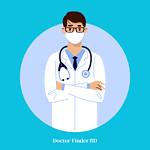 MBBS, BCS (Health), MS (OMS), NST (Fellow), JICA (Fellow)
Dental & Oral Surgeon
Chittagong Medical College & Hospital
Dental Specialist in Chittagong
Dental specialists in Chittagong play an essential role in oral healthcare, providing a range of services to address various dental needs. In Chittagong, a major city in Bangladesh, these professionals offer both routine and specialized dental care to a diverse population.
Dental specialists in Chittagong encompass various fields of dentistry, such as:
Orthodontics: These specialists focus on correcting teeth alignment and bite issues using braces, clear aligners, and other orthodontic appliances.

Periodontics: They specialize in the treatment of gum diseases and conditions affecting the supporting structures of the teeth, including periodontitis and gingivitis.

Endodontics: Endodontists are experts in root canal treatments and other procedures involving the interior of the tooth, particularly the dental pulp.

Prosthodontics: Prosthodontists deal with dental prostheses, including dentures, bridges, crowns, and implants, to replace missing teeth and restore oral function.

Pediatric Dentistry: Pediatric dentists specialize in dental care for children, from infancy through adolescence, focusing on the unique dental issues of this age group.

Oral and Maxillofacial Surgery: This specialty involves surgical procedures related to the mouth, jaw, and face, including tooth extractions, corrective jaw surgery, and treatment of traumatic injuries.
Dental specialists in Chittagong use modern technology and techniques to provide comprehensive dental care. They perform diagnostic assessments using digital X-rays and 3D imaging, and provide a range of treatments from preventive care, such as cleanings and fluoride treatments, to more complex surgical procedures.
In addition to treating oral health issues, these specialists place a strong emphasis on patient education, advising on proper oral hygiene practices, diet, and preventive measures to maintain dental health.
Many dental specialists in Chittagong also stay updated with the latest advancements in their respective fields through continuous education and training. This commitment ensures high standards of care and the most effective treatment options for their patients.
In summary, dental specialists in Chittagong are key healthcare providers, offering expert care across various disciplines of dentistry. Their expertise in providing both routine and specialized dental treatments, combined with a focus on patient education and preventive care, ensures comprehensive oral healthcare services for the residents of Chittagong.