Diabetes & Hormone Specialist in Chittagong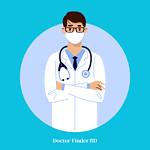 MBBS, FCPS (Medicine)
Medicine & Diabetes Specialist
Chittagong Medical College & Hospital
Diabetes & Hormone Specialist in Chittagong
Diabetes and hormone specialists, often known as endocrinologists, in Chittagong are crucial for managing and treating a range of endocrine disorders, with a particular focus on diabetes. In a populous city like Chittagong, where lifestyle-related diseases are increasingly prevalent, their expertise is highly valuable.
These specialists diagnose and treat various conditions related to hormonal imbalances and metabolic disorders. They manage all types of diabetes, including Type 1, Type 2, and gestational diabetes, offering tailored treatment plans that may include medication, insulin therapy, and lifestyle modifications. They also provide education and support for diabetes self-management, which is essential for controlling blood sugar levels and preventing complications.
Beyond diabetes, hormone specialists in Chittagong address other endocrine conditions such as thyroid disorders (like hypothyroidism and hyperthyroidism), adrenal gland disorders, osteoporosis, and pituitary gland abnormalities. They are skilled in diagnosing these conditions through blood tests, imaging studies, and other diagnostic procedures.
Treatment strategies for hormonal disorders can vary greatly depending on the specific condition and the individual patient. These may include hormone replacement therapies, medications to regulate hormone levels, and dietary and lifestyle changes.
Many diabetes and hormone specialists in Chittagong also focus on preventive healthcare. They counsel patients on how to reduce the risk of developing endocrine disorders through healthy lifestyle choices, such as maintaining a balanced diet, regular exercise, and stress management.
Furthermore, these specialists often engage in continuous learning and research to stay up-to-date with the latest advancements in endocrinology. This ensures that they can provide the most current and effective treatments to their patients.
In summary, diabetes and hormone specialists in Chittagong are key healthcare providers in managing a wide range of endocrine disorders. Their expertise in diagnosis, treatment, and patient education plays a vital role in improving the health and well-being of individuals with endocrine and metabolic conditions in Chittagong.