ENT Specialist in Chittagong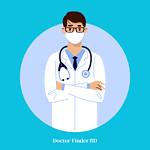 MBBS, FCPS (ENT)
Ear, Nose, Throat Specialist & Head Neck Surgeon
Center for Specialized Care & Research (CSCR)
ENT Specialist in Chittagong
ENT (Ear, Nose, and Throat) specialists, also known as otolaryngologists, in Chittagong provide critical healthcare services in diagnosing and treating a wide range of disorders related to the head and neck region. In a city like Chittagong, with its diverse population and environmental factors that can affect ENT health, the role of these specialists is particularly significant.
ENT specialists in Chittagong manage conditions such as chronic sinusitis, allergic rhinitis, ear infections, hearing loss, tinnitus, voice disorders, and throat diseases including tonsillitis and pharyngitis. They are also skilled in treating more serious conditions like head and neck cancers, thyroid disorders, and sleep apnea.
These professionals use various diagnostic tools, including endoscopy, audiometry tests, and imaging studies like CT scans and MRIs, to accurately diagnose conditions. Based on the diagnosis, treatment plans may involve medication, surgical interventions, or other therapies.
For surgical care, ENT specialists in Chittagong are skilled in procedures such as tonsillectomies, adenoidectomies, septoplasty for deviated septum, and functional endoscopic sinus surgery (FESS). They are also capable of performing more complex surgeries for cancers of the head and neck region.
In addition to clinical treatment, ENT specialists in Chittagong place a strong emphasis on preventive care and patient education. They provide advice on maintaining good ear, nose, and throat health, which is especially important in urban environments where pollution and other factors can impact these areas.
Moreover, many ENT specialists in Chittagong stay current with the latest medical advancements in their field through continuous education and training. This ensures they provide the most up-to-date and effective treatments to their patients.
In summary, ENT specialists in Chittagong play a vital role in the healthcare sector, offering comprehensive care for a variety of conditions affecting the ear, nose, and throat. Their expertise in diagnosis, treatment, and surgery, combined with a commitment to patient education and preventive care, ensures quality healthcare services for residents of Chittagong.