Gastroenterology Specialist in Chittagong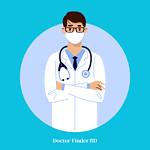 MBBS, PhD (Japan), Gastro Fellow (UK)
Gastroenterology, Liver & Pancreatic Diseases Specialist
Chattogram Maa-O-Shishu Hospital Medical College
Gastroenterology Specialist in Chittagong
Gastroenterology specialists in Chittagong are key healthcare providers focusing on the diagnosis and treatment of disorders affecting the gastrointestinal (GI) tract. These specialists are crucial in managing a wide range of conditions related to the digestive system in Chittagong, a major city in Bangladesh where dietary habits and lifestyle factors can significantly impact GI health.
These medical professionals deal with various gastrointestinal issues, including acid reflux, peptic ulcers, irritable bowel syndrome (IBS), inflammatory bowel diseases like Crohn's disease and ulcerative colitis, gallbladder diseases, and gastrointestinal cancers. They also address liver diseases such as hepatitis, cirrhosis, and liver cancer.
Gastroenterology specialists in Chittagong utilize a range of diagnostic tools to accurately identify GI conditions. These include endoscopic procedures like gastroscopy and colonoscopy, which allow for direct visualization of the gastrointestinal tract, as well as imaging studies and various laboratory tests.
Treatment plans developed by these specialists may involve medication management, dietary and lifestyle changes, and in some cases, endoscopic or surgical interventions. For example, they may perform endoscopic procedures for polyp removal, treating bleeding, or stent placement.
In addition to their clinical work, gastroenterology specialists in Chittagong often emphasize the importance of preventive care and patient education. They guide patients on maintaining a healthy digestive system, which includes advice on diet, exercise, and avoiding risk factors for GI diseases.
Many of these specialists also engage in ongoing education and research to stay abreast of the latest advancements in gastroenterology. This commitment ensures they provide the most current and effective treatments to their patients.
In summary, gastroenterology specialists in Chittagong play a vital role in diagnosing and treating a wide range of gastrointestinal disorders. Their expertise in advanced diagnostic techniques and comprehensive treatment approaches, combined with a focus on patient education and preventive care, ensures high-quality care for individuals with digestive health issues in Chittagong.