Gastroenterology Specialist in Dhaka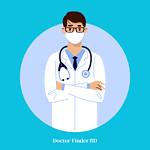 MBBS, FCPS (Medicine), MD (Gastroenterology)
Gastroenterology (Stomach, Liver, Gallbladder, Pancreas) & Medicine Specialist
Dhaka Medical College & Hospital
Gastroenterology Specialist in Dhaka
Gastroenterology specialists in Dhaka are crucial healthcare providers, focusing on diagnosing and treating diseases related to the digestive system. These experts, based in Bangladesh's bustling capital, are well-equipped to manage a wide array of gastrointestinal (GI) disorders, including diseases of the esophagus, stomach, intestines, liver, pancreas, and gallbladder.
In Dhaka, gastroenterology specialists utilize a blend of advanced diagnostic tools and therapeutic techniques to address common GI problems like acid reflux, peptic ulcers, irritable bowel syndrome (IBS), inflammatory bowel diseases (like Crohn's disease and ulcerative colitis), and liver diseases such as hepatitis. They are also proficient in managing more complex conditions, including gastrointestinal cancers.
These specialists offer a range of diagnostic procedures, such as endoscopy, colonoscopy, and ERCP (endoscopic retrograde cholangiopancreatography), to accurately identify GI conditions. This expertise is vital for early detection and effective management of gastrointestinal diseases, which can significantly impact a patient's quality of life.
Treatment plans developed by gastroenterology specialists in Dhaka are patient-centric, tailored to the individual's specific needs and health status. They encompass medication management, dietary and lifestyle modifications, and, when necessary, advanced interventions like endoscopic procedures or surgeries.
Additionally, these specialists emphasize the importance of preventive care and patient education, guiding individuals on how to maintain a healthy digestive system. This approach is essential in a region where dietary habits and environmental factors can greatly influence gastrointestinal health.
Many gastroenterologists in Dhaka are also involved in ongoing research and collaborative efforts with international medical communities. This engagement ensures they remain at the forefront of the latest advancements in gastroenterology, enhancing the quality of care provided to patients in Dhaka.
In summary, gastroenterology specialists in Dhaka are integral to the city's healthcare system, offering expert care for a wide range of digestive disorders. Their commitment to utilizing advanced diagnostic and therapeutic techniques, combined with a focus on patient education and preventive care, ensures that residents of Dhaka have access to comprehensive and effective gastrointestinal healthcare services.