General Surgery Specialist in Chittagong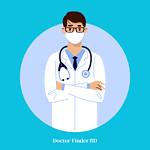 MBBS, FCPS (Surgery), FMAS (India), FACS (USA), FRCS (UK)
Specially Trained in Advanced Endo-Laparoscopy, Colorectal Surgery & Laser Proctology
General, Colorectal, Endo-Laparoscopic & Laser Surgeon
Dhaka Medical College & Hospital
General Surgery Specialist in Chittagong
General surgery specialists in Chittagong are key figures in the healthcare sector, providing a broad range of surgical care for various conditions. In a major city like Chittagong, their expertise and services are vital for addressing diverse surgical needs.
General surgeons in Chittagong are trained to perform a wide array of procedures, encompassing surgeries of the abdomen, breast, thyroid, gallbladder, and hernias. They deal with conditions like appendicitis, gallstones, gastrointestinal tumors, and hernias, performing both elective and emergency surgeries.
These specialists are adept at traditional open surgery techniques and are increasingly incorporating minimally invasive methods, such as laparoscopic surgery, into their practice. Minimally invasive surgery offers several benefits, including smaller incisions, less pain, quicker recovery, and reduced risk of complications, making it a preferred choice for many patients and conditions.
In addition to surgical procedures, general surgery specialists in Chittagong provide comprehensive preoperative and postoperative care. This includes evaluating patients' surgical needs, explaining the risks and benefits of procedures, and providing follow-up care to ensure optimal recovery and outcomes.
Many general surgeons in Chittagong also play a role in trauma care, often being the first to respond to and manage various emergency situations. This aspect of their work is crucial in a city where accidents and emergencies are not uncommon.
Furthermore, these surgeons often engage in continuous learning and professional development. Staying abreast of the latest surgical techniques and advancements ensures they provide the most current and effective treatments to their patients.
In summary, general surgery specialists in Chittagong are indispensable in the medical community, offering a wide range of surgical services. Their expertise in various surgical procedures, combined with a commitment to comprehensive patient care and ongoing professional development, ensures high-quality surgical care for patients in Chittagong, contributing significantly to the city's overall healthcare services.