Gynecology & Obstetrics Specialist in Chittagong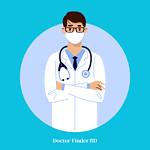 MBBS, FCPS (OBGYN), DMEd (UK)
Gynecology, Obstetrics, Infertility Specialist & Surgeon
Chittagong Medical College & Hospital
Gynecology & Obstetrics Specialist in Chittagong
Gynecology and Obstetrics specialists in Chittagong are indispensable in providing comprehensive healthcare to women at various stages of their lives. These specialists, often referred to as OB-GYNs, focus on a wide array of women's health issues, encompassing both gynecological and obstetrical care.
In Chittagong, OB-GYNs manage a spectrum of women's health concerns, including menstrual disorders, fertility issues, pregnancy, childbirth, and postpartum care. They also diagnose and treat gynecological conditions such as uterine fibroids, ovarian cysts, endometriosis, pelvic floor disorders, and gynecological cancers.
These specialists are skilled in providing prenatal care, guiding women through healthy pregnancies, and managing any complications that may arise during this period. They conduct regular check-ups, ultrasounds, and tests to monitor the health of both the mother and the developing fetus. Their expertise is crucial in ensuring the safety and well-being of both during pregnancy and childbirth.
Gynecology and Obstetrics specialists in Chittagong are also equipped to perform a range of procedures, from routine Pap smears and pelvic exams to more complex surgeries like cesarean sections, hysterectomies, and laparoscopic surgeries. They are adept at using modern technologies and techniques to provide the best care possible.
In addition to clinical services, these specialists play a vital role in women's health education, advising on reproductive health, family planning, and preventive care. They often counsel women on contraception, menopause management, and overall health maintenance.
Furthermore, many OB-GYNs in Chittagong engage in continuous learning and research to stay updated on the latest advancements in their field. This commitment to professional development ensures they can offer up-to-date and effective treatments to their patients.
In summary, Gynecology and Obstetrics specialists in Chittagong are essential healthcare providers for women, offering expert care across a range of women's health issues. Their expertise in both gynecology and obstetrics, combined with a commitment to patient education and ongoing professional growth, ensures comprehensive and quality care for women at all stages of life in Chittagong.