Homeopathy Doctor in Dhaka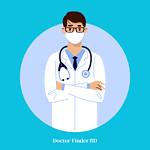 BA, DHMS (Dhaka), MD (India)
Homeopathic (Chronic Diseases) Specialist
Government Homeopathic Medical College & Hospital
Homeopathy Doctor in Dhaka
Homeopathy doctors in Dhaka offer an alternative medical treatment approach, focusing on holistic and natural remedies. Homeopathy, based on the principle of "like cures like," involves using highly diluted substances with the aim of triggering the body's natural system of healing. In Dhaka, homeopathy is a popular complementary therapy, and many people turn to it for various health issues.
Homeopathy doctors in Dhaka treat a wide range of conditions, from acute illnesses like colds, coughs, and flu to chronic conditions such as allergies, asthma, arthritis, and skin problems. They take a comprehensive approach to patient health, considering not only physical symptoms but also emotional and mental well-being.
During consultations, homeopathy doctors in Dhaka typically conduct an extensive assessment of the patient's overall health, lifestyle, and medical history. This detailed evaluation guides them in prescribing a personalized homeopathic remedy tailored to the individual's specific needs and symptoms.
These doctors often use a variety of homeopathic remedies, which are prepared from natural substances like plants, minerals, and animal products. The remedies are administered in small doses and are believed to stimulate the body's self-healing capabilities.
Homeopathy in Dhaka is also appreciated for its focus on preventive care. Homeopathy doctors often advise on lifestyle and dietary changes to promote overall health and prevent illnesses.
Many homeopathy doctors in Dhaka are part of a broader community of alternative medicine practitioners and may collaborate with other healthcare professionals to provide holistic care. They often engage in continuous learning to stay updated with the latest developments in homeopathic medicine.
In summary, homeopathy doctors in Dhaka offer an alternative approach to healthcare, focusing on natural remedies and holistic patient care. They cater to a range of health issues, emphasizing individualized treatment and the body's natural healing process. Their approach is well-received by many in Dhaka who seek complementary or alternative medical care.