Kidney Specialist in Chittagong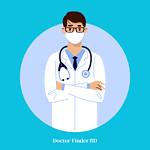 MBBS, MD (Nephrology), FCPS (Medicine), Training (Internal Medicine)
Kidney Diseases & Internal Medicine Specialist
Chittagong Medical College & Hospital
Kidney Specialist in Chittagong
Kidney specialists, or nephrologists, in Chittagong provide crucial medical care for patients with kidney-related ailments. In a city like Chittagong, with its considerable population and varying healthcare needs, the services of these specialists are essential for addressing renal health issues.
Nephrologists in Chittagong diagnose and treat a wide range of kidney disorders, including chronic kidney disease (CKD), acute kidney injury, glomerulonephritis, polycystic kidney disease, and electrolyte imbalances. They also manage patients requiring renal replacement therapy, such as dialysis (both hemodialysis and peritoneal dialysis) and oversee the care of patients before and after kidney transplantation.
These specialists are skilled in conducting various diagnostic tests, such as serum creatinine tests, urine analysis, and imaging studies like ultrasounds, to evaluate kidney function and structure. This comprehensive approach is vital for developing effective treatment plans.
Treatment strategies often involve managing underlying conditions that affect kidney health, such as hypertension and diabetes, along with specific therapies for kidney diseases, including medications to control symptoms and progression of kidney damage.
In addition to their clinical work, kidney specialists in Chittagong play a significant role in patient education. They provide guidance on managing chronic kidney disease, dietary recommendations, fluid management, and lifestyle modifications to slow disease progression and improve quality of life.
Many nephrologists in Chittagong also engage in ongoing education and research activities, ensuring they remain updated with the latest advancements and best practices in nephrology. This commitment to continuous learning ensures they can offer the most effective and up-to-date care to their patients.
In summary, kidney specialists in Chittagong are key healthcare providers, offering expert care for a range of kidney-related conditions. Their proficiency in diagnosis and treatment, coupled with a focus on patient education and a commitment to staying abreast of medical advancements, ensures comprehensive and high-quality care for individuals with renal health issues in Chittagong.