Laparoscopic Surgery Specialist in Dhaka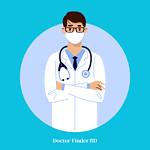 MBBS (DMC), MCPS, FCPS, MRCS (UK), FACRSI, FMAS
Post. Fellowship Training in Colorectal, Hepatobiliary, Laparoscopic & Bariatric Surgery (India)
General, Laparoscopic, Hepatobiliary, Colorectal & GI Surgeon
Bangabandhu Sheikh Mujib Medical University Hospital
Laparoscopic Surgery Specialist in Dhaka
Laparoscopic surgery specialists in Dhaka are pivotal in the field of minimally invasive surgery, offering advanced surgical options to patients in Bangladesh's capital. These specialists are highly trained in performing surgeries through small incisions, using specialized instruments and cameras, which is a significant advancement over traditional open surgery.
In Dhaka, laparoscopic surgeons handle a wide range of procedures, including but not limited to gallbladder removal (cholecystectomy), hernia repairs, appendectomies, and surgeries for various gastrointestinal conditions. This technique is particularly beneficial as it typically results in less pain, quicker recovery, reduced risk of infection, and minimal scarring for patients.
The expertise of these surgeons is not just limited to the technical aspects of surgery. They are also skilled in pre-operative patient evaluation, ensuring that individuals are suitable candidates for laparoscopic surgery. Post-operative care is another critical aspect of their work, involving monitoring for complications, managing pain, and aiding in the patient's recovery process.
Laparoscopic surgery specialists in Dhaka are equipped with state-of-the-art surgical facilities and instruments. This includes high-definition cameras and monitors, specialized surgical tools, and advanced operating theatres, all of which contribute to the safety and effectiveness of the procedures.
Additionally, many of these specialists are committed to continuous learning and professional development. They stay abreast of the latest advancements in laparoscopic techniques and technologies, often participating in international medical conferences and workshops.
In summary, laparoscopic surgery specialists in Dhaka are instrumental in providing advanced surgical care. Their expertise in minimally invasive techniques offers significant benefits to patients, including reduced recovery times and lower complication rates. Their commitment to using the latest technology and best practices ensures high-quality surgical care, positioning Dhaka as a city with proficient and modern medical services in the field of laparoscopic surgery.