Liver Specialist in Chittagong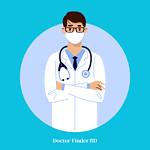 MBBS, PhD (Japan), Gastro Fellow (UK)
Gastroenterology, Liver & Pancreatic Diseases Specialist
Chattogram Maa-O-Shishu Hospital Medical College
Liver Specialist in Chittagong
Liver specialists, or hepatologists, in Chittagong are medical professionals dedicated to diagnosing and treating liver-related diseases and conditions. Their expertise is particularly crucial in a densely populated urban center like Chittagong, where a range of liver health issues requires specialized attention.
These specialists manage various conditions affecting liver health, including hepatitis (hepatitis B and C), fatty liver disease (both alcoholic and non-alcoholic), cirrhosis, liver cancer, and liver failure. They are also involved in the management of complications related to liver diseases, such as ascites, esophageal varices, and hepatic encephalopathy.
Hepatologists in Chittagong use a combination of diagnostic tools, including blood tests, liver function tests, ultrasound, MRI, and liver biopsies, to accurately diagnose liver conditions. Early and precise diagnosis is essential for effective treatment and management of liver diseases.
Treatment approaches vary depending on the specific liver condition and may include medication management, lifestyle changes (like diet and alcohol consumption), and in advanced cases, interventions such as endoscopic procedures or liver transplantation.
In addition to clinical treatments, liver specialists in Chittagong focus on preventive healthcare and patient education. They counsel patients on ways to maintain liver health, prevent liver disease, and manage chronic liver conditions effectively.
Many of these specialists stay updated with the latest developments in hepatology and engage in ongoing research and education. This ensures they provide the most current and effective treatments to their patients.
In summary, liver specialists in Chittagong are key healthcare providers, offering specialized care for a variety of liver diseases and conditions. Their expertise in diagnosis, treatment, and preventive care, combined with a commitment to continuous professional development, ensures high-quality care for individuals with liver health concerns, enhancing their overall well-being and quality of life.