Neuro medicine Specialist in Chittagong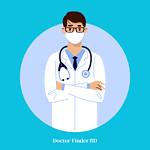 MBBS, FCPS (Medicine), MD (Neurology)
Brain, Stroke, Nerve, Medicine & Neurology Specialist
Chittagong Medical College & Hospital
Neuro medicine Specialist in Chittagong
Neuro medicine specialists, or neurologists, in Chittagong are crucial in the diagnosis and treatment of neurological disorders. Their expertise is particularly valuable in a city like Chittagong, where a range of neurological conditions affects the population.
These specialists manage various neurological issues, including but not limited to stroke, epilepsy, Parkinson's disease, Alzheimer's disease, multiple sclerosis, migraines, and neuromuscular disorders. They address conditions involving the brain, spinal cord, peripheral nerves, and muscles.
Neurologists in Chittagong utilize various diagnostic tools to evaluate neurological conditions. This includes using electroencephalograms (EEGs) to study brain activity, electromyography (EMG) to evaluate muscle and nerve function, and advanced imaging techniques like MRI (Magnetic Resonance Imaging) and CT (Computed Tomography) scans for detailed visualization of neurological structures.
Treatment plans developed by these specialists often involve a combination of medication management, rehabilitation therapies, and lifestyle modifications. In cases of chronic conditions like epilepsy or Parkinson's disease, ongoing management is crucial to maintain quality of life and manage symptoms effectively.
In addition to direct patient care, many neurologists in Chittagong are involved in patient education and awareness. They counsel patients and families about managing neurological disorders, understanding treatment options, and coping strategies for chronic conditions.
Furthermore, neuro medicine specialists in Chittagong often stay current with the latest developments in the field. They engage in continuous learning and professional development to ensure they provide the most up-to-date and effective treatments to their patients.
In summary, neuro medicine specialists in Chittagong are key healthcare providers, offering expert care for a range of neurological conditions. Their expertise in diagnosis and treatment, combined with a focus on patient education and ongoing professional development, ensures high-quality care for individuals with neurological disorders, enhancing their overall health and quality of life.