Orthopedic Specialist in Chittagong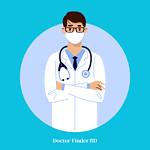 MBBS, MS (Orthopedic), Training in Arthroplasty (India)
Orthopedics (Bone, Joint, Fractures, Sports Injury, Trauma) & Spine Surgeon
Professor & Head, Orthopedic Surgery
Chittagong Medical College & Hospital
Orthopedic Specialist in Chittagong
Orthopedic specialists in Chittagong are crucial healthcare providers who diagnose, treat, and manage disorders related to the musculoskeletal system, which includes bones, joints, ligaments, tendons, and muscles. In a densely populated city like Chittagong, their services are essential for addressing a wide range of orthopedic conditions.
These specialists deal with a variety of issues such as fractures, joint dislocations, sports injuries, arthritis, osteoporosis, and spinal disorders. They also treat congenital conditions like clubfoot and developmental disorders such as scoliosis in children and adolescents.
Orthopedic specialists in Chittagong employ various diagnostic tools, including X-rays, MRI scans, and CT scans, to accurately diagnose conditions. They also perform physical examinations and take patient histories to assess the extent and nature of injuries or disorders.
Treatment approaches can range from non-surgical methods like physical therapy, pain management, and rehabilitation exercises, to surgical interventions when necessary. Orthopedic surgeries performed may include joint replacements (such as hip and knee replacements), arthroscopic surgeries for joint conditions, spinal surgeries, and the surgical fixation of fractures.
In addition to treating injuries and conditions, these specialists are involved in preventive care. They advise on injury prevention, especially in sports, workplace ergonomics, and maintaining bone and joint health.
Many orthopedic specialists in Chittagong also engage in continuous professional development to stay updated with the latest advancements in orthopedic medicine and surgery. This ensures that they can offer the most effective and innovative treatments to their patients.
In summary, orthopedic specialists in Chittagong are key figures in the healthcare sector, providing expert care for various musculoskeletal conditions. Their comprehensive approach to diagnosis, treatment, and preventive care plays a crucial role in improving the quality of life and mobility for patients in Chittagong.