Physical Medicine Specialist in Chittagong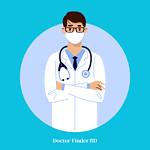 MBBS, FCPS (Physical Medicine), Training (Madras)
Physical Medicine, Paralysis, Sport Injury & Arthritis Specialist
Professor & Head, Physical Medicine & Rehabilitation
Rajshahi Medical College & Hospital
Physical Medicine Specialist in Chittagong
Physical medicine specialists, also known as physiatrists, in Chittagong provide crucial services in the rehabilitation and treatment of patients with physical impairments and disabilities. These healthcare professionals specialize in enhancing and restoring functional ability and quality of life to those with physical impairments or disabilities affecting the muscles, joints, tissues, or nervous system.
In Chittagong, physical medicine specialists cater to a diverse range of conditions, including but not limited to, spinal cord injuries, traumatic brain injuries, stroke, orthopedic injuries, arthritis, and chronic pain conditions. They focus on the holistic management of these conditions, often encompassing various aspects of a patient's physical and functional health.
These specialists employ an array of treatment modalities such as physical therapy, occupational therapy, therapeutic exercise, and sometimes non-surgical procedures like nerve blocks or injections. They develop comprehensive rehabilitation plans tailored to the individual needs of each patient, aiming to improve their ability to perform daily activities and enhance their overall quality of life.
Physical medicine specialists in Chittagong also work closely with other healthcare professionals, including neurologists, orthopedic surgeons, and primary care doctors, to provide a multidisciplinary approach to patient care. This collaborative effort ensures that patients receive well-rounded treatment that addresses all aspects of their rehabilitation needs.
Moreover, these specialists are involved in patient education, helping individuals understand their conditions and the best ways to manage them. This includes advice on lifestyle modifications, ergonomic adjustments, and preventive measures to avoid further injury or deterioration.
Many physical medicine specialists in Chittagong are also dedicated to staying updated with the latest advancements in rehabilitative medicine through continuous learning and professional development. This ensures they are able to provide the most effective and evidence-based treatments to their patients.
In summary, physical medicine specialists in Chittagong are essential in the healthcare system, offering expert care in the field of rehabilitation medicine. Their expertise in various therapeutic techniques, coupled with a multidisciplinary approach and focus on patient education, provides essential support to individuals recovering from injuries, surgeries, or managing chronic conditions, enabling them to lead more active and fulfilling lives.