Skin Specialist in Chittagong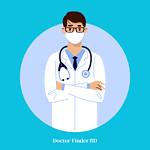 MBBS, BCS (Health), MD (Dermatology & Venereology)
Skin, Sexual Diseases & Allergy Specialist
Bangabandhu Memorial Hospital, USTC, Chittagong
Skin Specialist in Chittagong
Skin specialists, or dermatologists, in Chittagong provide essential healthcare services focusing on diagnosing and treating a wide range of skin conditions. Given the diverse environmental and lifestyle factors in Chittagong, their expertise is vital for addressing various dermatological needs.
Dermatologists in Chittagong treat common skin conditions such as acne, eczema, psoriasis, fungal infections, and various forms of dermatitis. They also manage more complex issues like skin cancers, vitiligo, and chronic blistering diseases. In addition to skin disorders, they treat conditions affecting the hair and nails, such as hair loss and nail fungus.
These specialists employ various diagnostic methods, including clinical examinations, skin biopsies, and laboratory tests, to accurately diagnose skin conditions. Based on the diagnosis, they offer a range of treatment options, including topical and systemic medications, light therapy, and cryotherapy.
Skin specialists in Chittagong are also skilled in performing minor surgical procedures, such as the removal of warts, moles, and skin tags. Additionally, many dermatologists offer cosmetic treatments, including procedures for scar reduction, skin rejuvenation, and treatment of age-related skin changes.
Importantly, dermatologists in Chittagong focus on patient education, advising on skincare routines, sun protection, and preventive measures against skin diseases. This aspect of care is especially significant in regions with high UV exposure and other environmental factors that can affect skin health.
Many skin specialists in Chittagong keep abreast of the latest advancements in dermatology, ensuring that they can provide the most current and effective treatments. This commitment to ongoing professional development is essential for delivering high-quality dermatological care.
In summary, skin specialists in Chittagong are key healthcare providers, offering expert care for a wide range of skin, hair, and nail conditions. Their proficiency in diagnosis and treatment, combined with a commitment to patient education and preventive care, ensures comprehensive dermatological services for the residents of Chittagong, enhancing their overall health and well-being.