Urology Specialist in Dhaka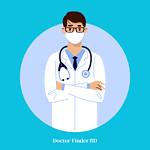 MBBS, FCPS (Surgery), MS (Urology), Fellowship (Laparoscopic & Endoscopic)
Asia Pacific Preceptorship in Urology (Singapore), Advanced Training in Urology (USA, Singapore, India)
Urology Specialist & Surgeon
Bangabandhu Sheikh Mujib Medical University Hospital
Urology Specialist in Dhaka
Urology specialists in Dhaka, known as urologists, are medical professionals dedicated to diagnosing, treating, and managing disorders of the urinary system and male reproductive organs. Their expertise is crucial in a densely populated urban setting like Dhaka, where a variety of urological conditions are prevalent.
Urologists in Dhaka handle a wide range of urological conditions, including urinary tract infections (UTIs), kidney stones, bladder issues, prostate diseases (such as benign prostatic hyperplasia and prostate cancer), male infertility, and erectile dysfunction. They also treat conditions related to the kidneys, ureters, bladder, and urethra, both in males and females.
These specialists employ various diagnostic tools, such as ultrasound, cystoscopy, and urodynamic testing, to accurately assess and diagnose urological conditions. Advanced diagnostic methods are essential for providing effective treatment plans tailored to each patient's specific needs.
Treatment options offered by urology specialists in Dhaka include medication, minimally invasive procedures, and surgical interventions. They are skilled in performing procedures such as cystoscopies, ureteroscopies, and laparoscopic surgeries. For more complex conditions, such as cancers of the urinary tract, urologists may perform surgeries like nephrectomy (kidney removal), prostatectomy (prostate removal), or bladder surgery.
In addition to treating diseases, urologists in Dhaka are involved in preventive care and patient education. They advise on lifestyle changes and preventive measures to maintain good urological health, such as hydration for kidney stone prevention and regular check-ups for early detection of prostate issues.
Many urologists in Dhaka also stay current with the latest advancements in urology, participating in ongoing education and research. This commitment ensures they provide the most up-to-date and effective treatments available.
In summary, urology specialists in Dhaka are integral to the healthcare system, providing expert care for a range of urological conditions. Their expertise in diagnosis, treatment, and prevention, combined with their commitment to ongoing professional development, ensures high-quality care for patients with urological health concerns, improving their quality of life and well-being.