Vascular Surgery Specialist in Dhaka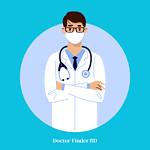 FRCS (England), FRCS (Glasgow), FRCS (Edinburgh), FRCS (General), MSc (Leeds), MBBS (DMC)
General, Laparoscopic & Vascular Surgeon
Gallbladder, Laparoscopic Hernia Repair, Laparoscopic Appendectomy, Diagnostic Laparoscopy, Laparoscopic Adhesiolysis
Piles, Fistula, Fissure, Breast Cancer, Bowel Surgery, Stomach Surgery Specialist
Varicose Veins, Dialysis Fistula, Leg Gangrene, Poor Circulation, Peripheral Vascular Disease, Carotid Artery Surgery, Lymphedema, DVT, CVI, Aortic Aneurysm
Lake View Clinic, Gulshan
Vascular Surgery Specialist in Dhaka
Vascular surgery specialists in Dhaka are key figures in the medical community, focusing on the diagnosis, treatment, and management of diseases related to the vascular system, which includes veins, arteries, and lymphatic circulation. In Bangladesh's capital, these surgeons are critical in addressing a wide range of vascular conditions that can have significant impacts on overall health.
These specialists are skilled in treating various vascular issues, including peripheral arterial disease (PAD), varicose veins, aneurysms, and vascular complications of diabetes, such as diabetic foot. They are adept at both traditional open surgery and modern minimally invasive endovascular procedures, like angioplasty and stenting, which offer patients quicker recovery times and less discomfort.
In Dhaka, vascular surgery specialists utilize advanced diagnostic tools, including Doppler ultrasound, angiography, and CT/MRI scans, to accurately assess vascular conditions. This precise diagnostic capability is essential for developing effective treatment plans that are tailored to the individual needs of each patient.
Treatment approaches by these surgeons often involve a combination of surgical intervention, medication management, and lifestyle modifications. They work closely with patients to manage risk factors, such as high blood pressure, cholesterol, and smoking, which are crucial in the prevention and management of vascular diseases.
Moreover, many vascular surgery specialists in Dhaka are involved in ongoing education and research. They stay informed about the latest advancements in vascular surgery and endovascular techniques, ensuring that they provide the most up-to-date and effective treatments to their patients.
In summary, vascular surgery specialists in Dhaka are vital in providing specialized care for patients with vascular diseases. Their expertise in advanced surgical and diagnostic techniques, combined with a focus on comprehensive patient care, ensures high-quality treatment for individuals with vascular conditions. Through their commitment to professional development and patient education, these specialists play a significant role in improving vascular health and outcomes for patients in Dhaka.