Cardiology Specialist in Chittagong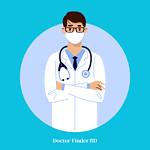 MBBS (CMC), D-CARD (DU), MCPS (Medicine), MD (Cardiology)
Cardiology & Medicine Specialist
Southern Medical College & Hospital
Cardiology Specialist in Chittagong
Cardiology specialists in Chittagong play a crucial role in the healthcare sector by diagnosing, treating, and managing various heart-related conditions. With the increasing prevalence of cardiovascular diseases in urban areas, the services of these specialists are highly significant in addressing the heart health of Chittagong's population.
Cardiologists in Chittagong are adept at managing a wide range of cardiac issues, including coronary artery disease, heart failure, arrhythmias, hypertension, and congenital heart defects. They employ advanced diagnostic tools like electrocardiograms (ECGs), echocardiograms, stress tests, and cardiac catheterizations to accurately assess heart function and diagnose heart disorders.
These specialists develop treatment plans that may involve medications, lifestyle modifications, and in certain cases, interventional procedures such as angioplasty and stenting. For patients with more complex heart conditions, cardiologists collaborate with cardiac surgeons for procedures like bypass surgery or valve replacements.
A significant aspect of their role involves preventive cardiology. Cardiology specialists in Chittagong emphasize the importance of heart-healthy lifestyles, dietary habits, regular exercise, and routine check-ups to prevent or manage heart diseases.
Many cardiologists in Chittagong are engaged in ongoing education and research, staying abreast of the latest advancements and innovations in cardiac care. This commitment to continuous learning ensures they provide the most effective and up-to-date treatments to their patients.
Additionally, these specialists often work within multidisciplinary teams, collaborating with other healthcare professionals such as dietitians, physical therapists, and general practitioners to offer comprehensive care for their patients.
In summary, cardiology specialists in Chittagong are key healthcare providers dedicated to improving heart health. Their expertise in a broad range of cardiac conditions, combined with a strong focus on prevention and patient education, ensures that individuals in Chittagong have access to high-quality cardiac care, contributing significantly to the community's overall health and longevity.